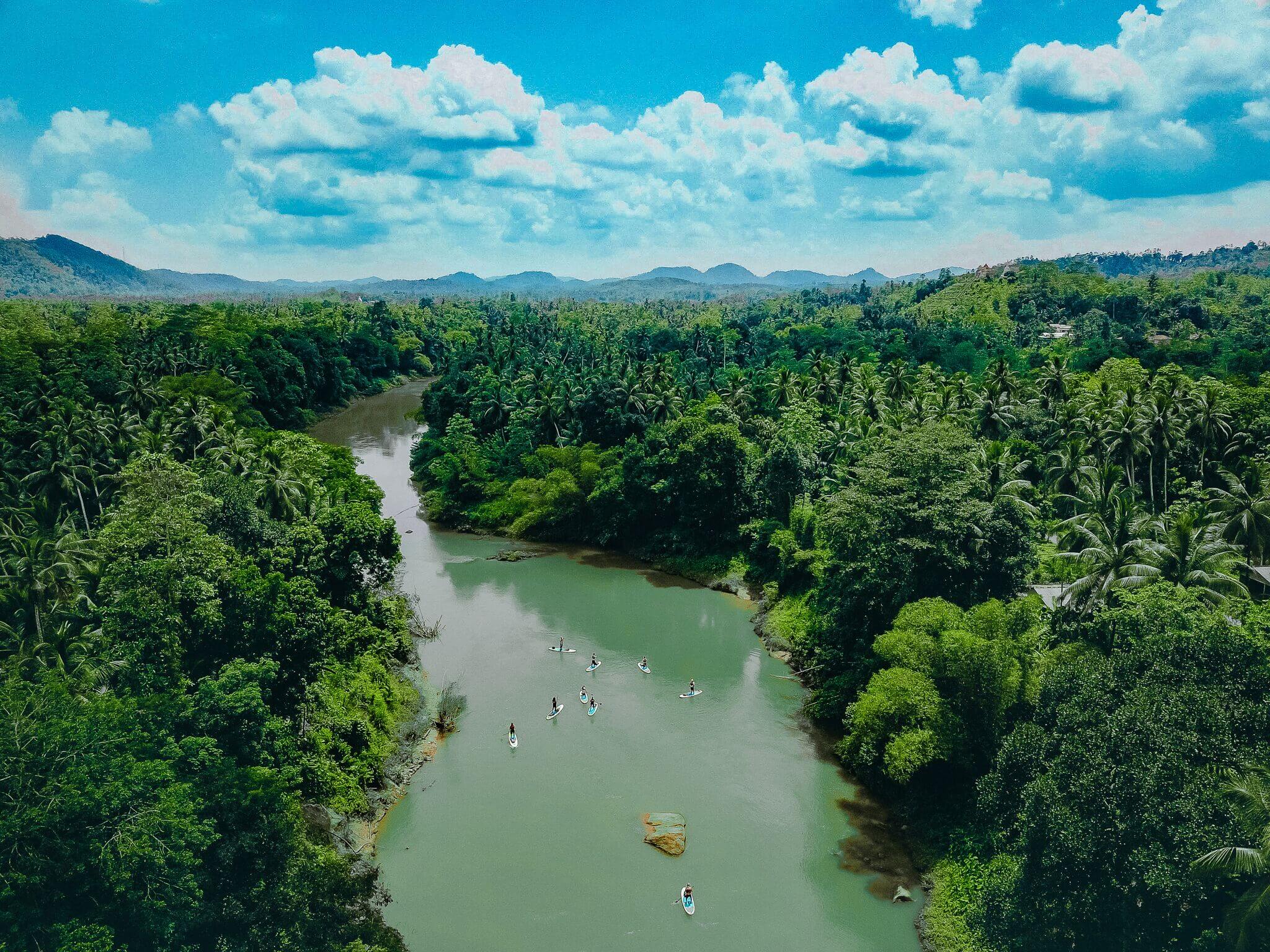 Sri Lanka SUP Week at Camp Poe with Ganga Adventures.
31st March-7th April 2020
All paddles are guided by Head Instructor Kev Brady.
Itinerary:
Tuesday – Arrival. Your room/tent will be ready for you from midday. Spend your first afternoon exploring local beaches, lunch spots or just lounging by the pool. 7pm Welcome dinner in Camp Poe is one of the country's tastiest rice and curry buffets.
Wednesday – 6am – The best time to get on the river is just before sunrise to view the day come alive. Our two hour Duwa river sunrise paddle through the mangroves. Breakfast is served at 9.30am every day to fuel you for whatever adventure you plan during your downtime.
Thursday – After breakfast we hop in the van to Dewata Bay, 25 minutes west. From there we paddle across to Jungle Beach for some snorkelling, a climb up the hill to visit the Japanese Peace Pagoda Temple and also to view a ship which was wrecked on the rocks last year. Small shacks on the beach serve a surprisingly varied lunch menu as well as cold beers and cocktails.
Friday – 7am SUP Surf lesson. Time to test your skills in the surf as we head to a local break to catch some waves. Suitable for beginner and intermediates. A sacred geometry art workshop is available at Camp Poe in the afternoon. In the evening we will head out with the rest of Camp to a local restaurant.
Saturday & Sunday – Gin Ganga Whitewater Camping Adventure…
Meandering through The Kanneliya Rainforest with grade I/II rapids and jungle hills as the backdrop, the Gin Ganga is a true wild jungle river experience. Suitable for water confident beginners.
Day 1:
5.45am. Meet for coffee and debrief at Camp Poe, Ahangama. From there its a two hour mini-bus transfer to the start point. Enroute we stop for a hearty local breakfast. We reach our arrival point in Thawalama around 9am, unload the van, pump up boards and prep for the day.
Kev will take you through a whitewater skills and safety brief and we'll be on the water for 10am. The morning paddle has the highest concentration of rapids throughout the whole trip. All are optional with riverbank portages available and none exceed Grade II.
Around 12.30pm we have a riverside rice and curry next to a rapid to play in. 3pm we arrive at Uncle Sumith's Tea Plantation for tea, coffee and snacks. We'll string our hammocks up amongst tea bushes and coconut trees and spend a few hours relaxing before a seafood BBQ dinner around campfire after the sun goes down. Perfect time for a cold beer and coconut Arrack Mojitos.
Day 2:
Sunrise wake up as the light creeps in your hammock and the birds start to chirp. Tea, Coffee & Breakfast which is a mixture of local and fresh fruit. Pack up our gear and launch for 8am. It's an easy one hour paddle to a small tributary where we stop for a swim in crystal clear waters and a short walk through tea plantation.
From here there is roughly 2-3 hours paddling with multiple rapids and plenty of opportunities to stop and swim. We finish at Rapid beach where we can play, chill and eat some lunch before jumping back in the van. We'll arrive back at Camp Poe around 6pm in time to have a well earned hot shower and dinner.
Monday – Feel free to lie in, do some yoga or even try a surf lesson. The day is yours until our final paddle of the week at 4pm. Duwa River at sunset boasts glorious colours and the perfect place to witness huge fruit bats heading out to feed for the night.
Tuesday checkout from Camp Poe is at 11am. We can organise a transfer back to the airport, wave you off to continue your Sri Lankan adventure or feel free to extend your stay at the super chilled Camp Poe.
Accommodation:
Camp Poe is in Ahangama on the south coast of Sri Lanka. Our guests are from all nationalities, ages and walks of life, the set up here at the camp allows us all to form quick friendships that often last beyond your stay. Our rooms are nestled within luscious tropical garden placed around a stunning outdoor pool and beautiful pavilion, complete with bohemian decor, pool table, darts board, library, communal eating and seating area, WiFi, tea and coffee station, mini bar and more for you to enjoy together.
Dorm tent. We have two bespoke dorm tents with four bunks, male and female, with shared bathrooms.
Shared safari tent equipped with two single beds which can be made into a double bed, with shared outdoor bathrooms.
Luxury tent with double bed and ensuite bathroom.
Jungle hut with ensuite bathroom.
Garden Bungalow. We have three Garden Bungalows with en-suite bathrooms. One bungalow has a double bed, the other two have two single beds.
Food:
We provide an all you can eat breakfast each day full of delicious local fruits, freshly baked bread, coconut porridge, banana pancakes, Sri Lankan omelets and more. In Camp Poe for five evenings a week we serve in house buffet dinners ranging from Sri Lankan to Western dishes, with vegetarian and vegan options. During the two day camping trip you will be given proper local breakfast, rice and curry lunches and a fireside Seafood BBQ dinner.
Prices:
Dorm tent – £630
Shared safari tent – £705
Luxury tent, Garden Bungalow & Jungle Hut – £1735 for two sharing or £1030 single occupancy.
What's included:
7 nights accommodation
Breakfast everyday
6 dinners
2 Mangrove Flatwater paddles (sunrise & sunset)
1 Ocean paddle
1 SUP Surf lesson
2 day Whitewater SUP Camping Adventure
Optional extras:
Yoga
Surf lessons
Art and music workshops
What's not included:
Flights – We usually use www.skyscanner.net and return flights from UK to Colombo should be in the region of £450
Airport transfer (this can be arranged) – around £40 and takes 2 hours
Travel insurance
10 spaces available
25% deposit required upon booking.
Full payment required 28 days prior to start date.
Cancellation policy:
Within 14 days – no refund
14-28 days – 50% refund
28 days+ – Full refund
For more information & booking contact Kev:
Whatsapp +44 7508705359
Email info@supgloucester.co.uk